As companies prepare to welcome workers back to the office, business owners face a number of challenges. How do we quickly update our existing workspace to minimize face-to-face interactions – ensuring the safety of employees – without having to rethink our entire open office design? And how do we do so cost-effectively?
While many companies and agencies have taken initial steps to update their offices, adding makeshift hand-sanitizer stations or sneeze guards, many experts indicate these preliminary measures aren't enough. As millions of employees return to the workplace, businesses want to have the peace of mind that they're doing everything possible to stop the spread of Covid-19. But many businesses can't afford to hire an expensive architecture firm to completely redesign their open office.
Our team at NVE Experience Agency (NVE) can relate. In January, NVE opened the doors to our brand-new headquarters in Los Angeles, driven by three guiding principles: creativity, concentration, and collaboration. Just as our team began to settle in and thrive in our new environment, we lost the opportunity to work from our new home.
Like many companies, our team has stayed connected and found new ways to collaborate during the pandemic while working remotely. And now, as we look at having our team return to the office, we want to make sure we're reopening in the right way.
To help reconfigure our open office, we turned to NVE's sister company, Treehouse Fabrication & Scenic, which is launching a new division called Treehouse Spaces focused on helping companies update their open offices and consumer-facing spaces, ensuring safety and comfort for employees heading back to work. The Treehouse team made up of talented designers, crafters, and builders offer design consultation and custom fabrication of products and other bespoke solutions.
Knowing that every business, culture, and office space are different, Treehouse works closely with every client to come up with a holistic solution that fits their specific needs. The first step is conducting a thorough audit of your workspace – and then based on your distinct needs – the Treehouse team recommends, custom fabricates, and installs the right solutions to update your office for safety.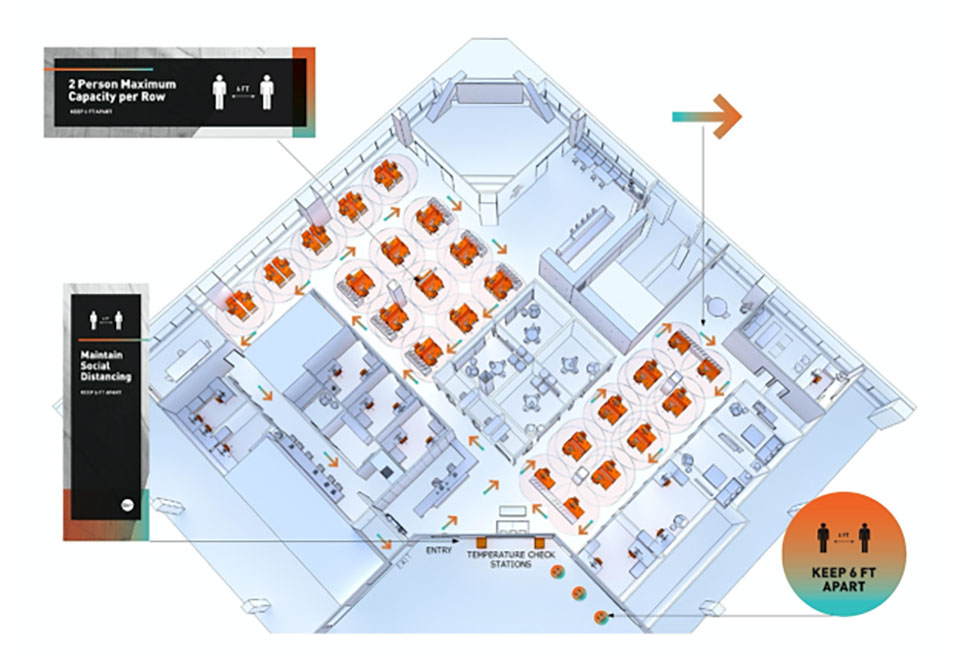 Bespoke solutions include custom fabricated acrylic shields and partitions for your front lobby or common areas, signage and directional floor decals no-touch hand sanitizing stations, among others. All products come in a variety of styles or colors and can be customized for any office.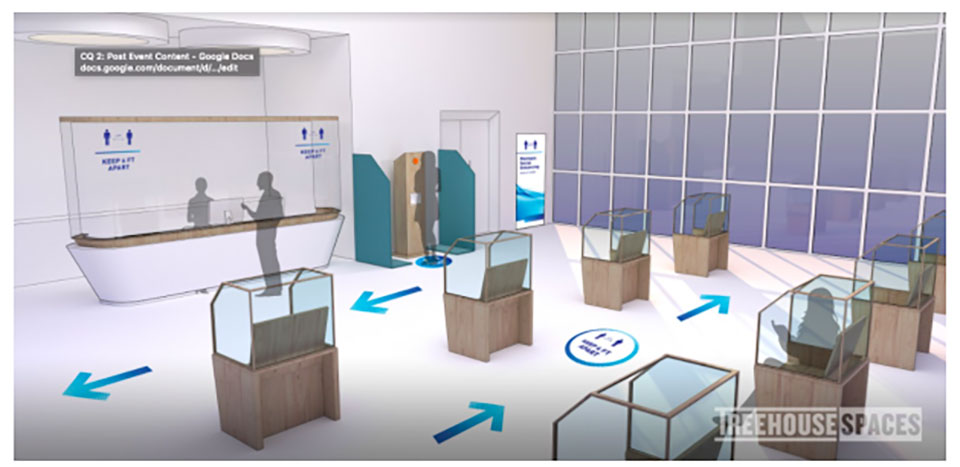 To provide an economical answer to the most pervasive challenge – the open office layout – Treehouse is also launching two new products – the Nook and NookGo.
The Nook is a simple desktop addition to the open office surface that adds 3-sides of partition privacy between the user and others around her.
The NookGo is a collapsible and portable solution that can be set up in temporary work environments, aimed at freelancers, creatives, writers, and other professionals who don't work in a permanent space.
Why This All Matters
Workplace displacement is not a temporary condition. Many scientists believe that social distancing may be necessary into 2022. People's values and priorities around how they interact with each other and their environments have also changed forever.
As states open up and people return to the office, there is the danger that businesses will take shortcuts, rather than the necessary measures to protect their employees. The goal with Treehouse Spaces is to help companies reconfigure their offices and do it right, following safety best practices, while saving them money in the process.